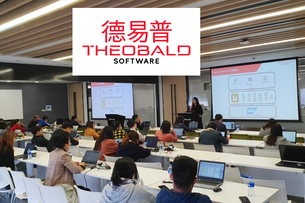 Before the German software provider Theobald entered the Chinese market, founder Patrick Theobald was looking for a suitable Chinese brand name that would represent the company's values and resemble the phonetics of the German name. The name 德易普 (pinyin/transliteration: Dé Yì Pǔ) created by Zentron fulfilled both criteria.
Theobald – SAP integration made easy
Theobald Software was founded in Stuttgart, Germany in 2004. The company develops interfaces that make SAP integration as easy as possible for customers. Due to increased demand in Asia, Theobald Software opened two offices in Hong Kong (2015) and Dongguan, China (2019).
The naming process for Theobald Software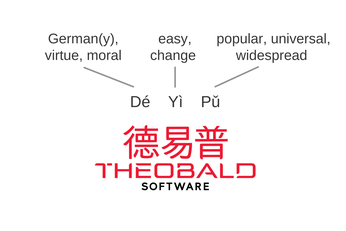 During the creative process, the Zentron project team analysed the brand and company values as well as the market environment. What distinguishes Theobald Software? Simple, pragmatic solutions in a complex SAP world. Customers get what they are looking for – fast and easy. Moreover, the Chinese target group perceives "Made in Germany" positively: Germany symbolises technical progress, efficiency and reliability. The brand name 德易普 (pinyin/transliteration: Dé Yì Pǔ) includes all of these meanings. It is also phonetically similar to the German name. 
The meanings of the three Chinese characters:
德 De = German(y), virtue, moral
易 Yi = easy, simple, change
普 Pu = universal, popular, widespread
---
"A suitable Chinese brand name was one of the priority topics for our market expansion into the Middle Kingdom. The positive-sounding name 德易普 (Dé Yì Pǔ) was well accepted by our potential local customers and partners." 
Patrick Theobald, Founder and CTO of Theobald Software
---
Why is a Chinese brand name important and how can you create one? Read this blog.