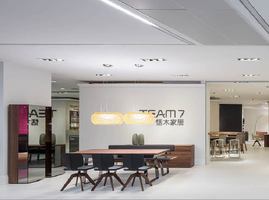 TEAM 7 - roots in Upper Austria, branches all over the world
TEAM 7 was founded in 1959 as a small joinery in Ried im Innkreis, Upper Austria. The furniture manufacturer combines nature, design and technology in its furniture, which has received numerous international awards. Under the motto "It's a tree story", the company now sells its solid wood furniture in over 30 countries.
Namensfindung für den chinesischen Markt
The Zentron team thoroughly analysed the company's history, brand values, as well as the market environment, target consumers and competitors. While China's luxury segment still offers many pseudo-European, palatial interiors or traditional Chinese furniture made of precious wood with elaborate carvings, part of the middle class is turning to nature. The TEAM 7 brand would cater to this new mind-set.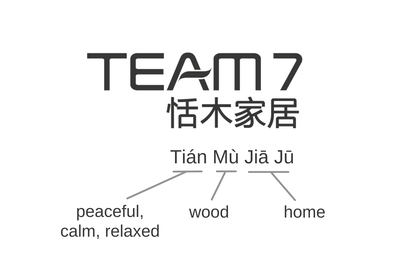 Finally, the project team decided on the name 恬木家居 (Transliteration/Pin Yin: Tián Mù Jiā Jū). 恬Tian means "calm", "peaceful" or "relaxed" as one should feel at home. 木 Mu means "wood", the origin and foundational material of all TEAM 7 products. 家居 Jia Ju means "home", which is simply the product category. 恬木 Tian Mu has a phonetic similarity to TEAM and is therefore closely relatable to the original brand.
---
 "The brand name is one of the most important agendas for entering the Chinese market. If consumers can't pronounce the name, let alone remember it, you have little chance of winning their hearts. With 恬木家居 (Tián Mù Jiā Jū) we have created an excellent foundation."
Dr. Georg Emprechtinger, owner and managing director of TEAM 7
---