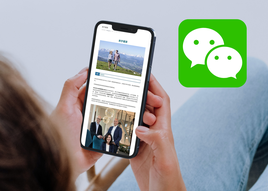 In order to make Biogena approachable for Chinese consumers, Zentron created a Chinese brand name: 葆淳 (pinyin/transliteration: Bǎo Chún). In addition to the phonetic similarity to the Latin name, the Chinese name also embodies the unique selling points of the brand.
(Why is a Chinese brand name important and how can you create one? Read this blog.)
Biogena – micronutrient products based on the pure substance principle
The Austrian family enterprise Biogena GmbH & Co KG with its headquarters in Salzburg develops, produces and markets high-quality micronutrient products based on the pure substance principle "made in Austria". What does the pure substance principle mean? All micronutrient preparations are guaranteed to be pure and free from colourings, preservatives and processing aids. Biogena products are sold in 37 countries.
Vitamins and dietary supplements in the TCM Country?
Due to the rising standard of living, the Chinese are paying more attention to their own health. While Traditional Chinese Medicine (TCM) is deeply rooted in everyday life, younger generations in particular are also turning to western dietary supplements. The market is competitive: more than 1,000 brands are present on the e-commerce platform Tmall alone!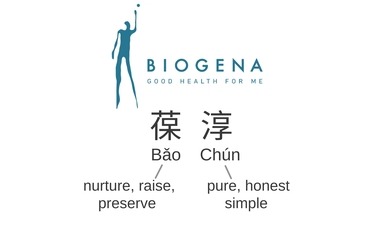 The project team started with the basic concept of "purity" and generated numerous ideas in a few creative phases. These were subjected to a competition check, phonetic tests in all main dialects and an availability check. The final name葆淳 (pinyin/transliteration: Bǎo Chún) thus meets all criteria. 葆 (Bǎo) means "nurture", "raise", "preserve" but also "lush growth" or "dense green". 淳 (Chún) means "pure", "honest" or "simple" - the pure substance principle in one character!
---
"A beautiful Chinese brand name is a good business card - you know how important business cards are in China!"
Margit Loidl
Managing Director, Biogena Blue Ocean GmbH
---