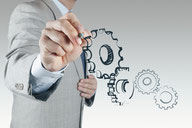 Zentron Consulting, previously specialising in marketing in China, is now also offering engineering services (as an engineering firm) in mechanical engineering. The core competence for technical services remains in the Chinese market in technical services. Particularly for European industrial companies which would like to establish themselves in China, this combination of marketing and engineering offers interesting possibilities – thus, for example, the adaptation of products, services and processes to the Chinese market in a uniform and coordinated manner. 
"In addition to the marketing services already being offered, technical services such as design, development and project management are now being added. Products and/or services that are adapted to the Chinese market can bring decisive competitive advantages. In our experience, technical know-how combined with well-founded marketing expertise is one of the most important factors for the business success of an industrial company in China", says Wolfgang Gastner, Managing Director of Zentron Consulting. 
Wolfgang Gastner possesses well-founded expertise in mechanical engineering, automation and project management. He has amassed more than twenty years of professional experience (three years of which working for Chinese companies in Hong Kong and Shenzhen) working at renowned companies as a Designer, Developer, Project Manager and Quality Manager.
Details on our engineering services please refer to www.zentron.at.